What is screen mirroring and how does it work?
Technology is slowly changing, and people are looking for new ways to enjoy themselves from the comfort of their sofa-people today like sharing videos and other things in groups. So our demand for screen mirroring is also increasing. So what is screen mirroring?
Videos have become so common that people look for better ways to enjoy their time. As much as we enjoy using our phones and tablets and especially watching movies and videos, holding these objects can be pretty tiresome. You might need to watch all the fun programs from a distance, maybe because you have eye problems or you don't want to get affected by light. Screen mirroring has provided the perfect solution for many users with light sensitivity issues. It has allowed users to replicate their hand gadgets onto more giant screens like computers, laptops, Macbooks, and TVs.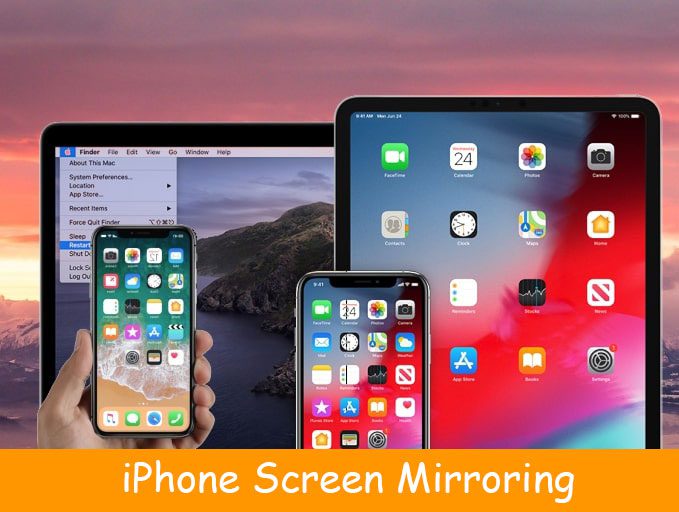 What is screen mirroring?
Screen mirroring is replicating your phone or tablet onto your PC, laptop, Macbook, Windows, or TV. It uses the concept of an image or video relaying into a bigger screen, and both devices are in the same network. The sender device and the receiving device share the same content simultaneously. Screen mirroring can be used in many places, such as offices to showcase a presentation, in schools by lecturers to teach, and at home to watch your favorite movie. The screen sending the content and the screen receiving the content should be on the same network. It requires the use of the same network connection. You can also connect remotely through the Google home Apps, but your device must be compatible with Chromecast for it to connect.
You can use screen mirroring on all phones, such as mirroring Android screens, iPhones, or any other supporting object. With cables, you can screen mirrors to improve picture quality, and you can also screen mirrors wirelessly without using a cable.
It can be done quickly if the devices used are compatible. You can also connect your device to a PC, macOS, or Macbook through some perfect screen mirroring Apps.
How does screen mirroring work?
It works by displaying the content on your phones, such as Netflix, pictures, or other images, to a bigger screen like television.
To use it, you must ensure that your device is compatible with the mirroring technique.
It can only work between two devices; that is, one device should be sending the content, and another device should be receiving the content. Both of these devices should be connected to the same network. In most cases, your mobile phone device will be the sender, and the television will be the receiver. It would help if you also had the screen mirroring App on your device that will enable you to mirror.
How exactly does it work?
The screen mirroring App on your device detects TVs available using the various detection protocols for different TVs.
The App sends a link and asks the selected TV to allow screen streaming and play using different communication protocols available on different TVs.
The App generates the video with the required content that you have chosen and the required video for that particular content onto the TV.
The TV streams the video or image.
The differences and similarities between screen mirroring and casting
Screen mirroring is similar to screencasting, screen sharing. But you can relay images from your hand device to your TV in screencasting, but the images will not appear on both devices. That means the video will automatically play on your TV but not your phone.
Differences
Screen. For screen mirroring, the hand device and TV show the same thing, but in screencasting, both devices show different things.
Content. Everything on the screen is visible for screen mirroring, including the audio, but only the content plays in screencasting.
Description. It mirrors the device's screen so that everything on the device is the same as on the TV for screen mirroring. But screencasting allows one to play content from one device to another.
Multi-tasking. Screen mirroring doesn't allow someone to multi-task because what is happening on the device is also happening on TV, but in screencasting, there is multi-tasking because the device can be used to do something else.
Local content screen mirroring supports local content, but screencasting does not support local content.
Apps. All Apps support screen mirroring, but not all Apps support screen casting.
Similarities
Both screen castings use two devices to relay content on the screen. They must have a phone/PC and a PC/TV to work.
It would be best to have a cable to connect the two networks in screen mirroring and screen casting.
Screen casting and screen mirroring both need an App that allows for screen sharing for them to work.
Both screen sharing and screen casting involve sharing content with a second device.
In both screen sharing and screen casting, you need to use compatible devices for them to work.
What can we do with screen mirroring?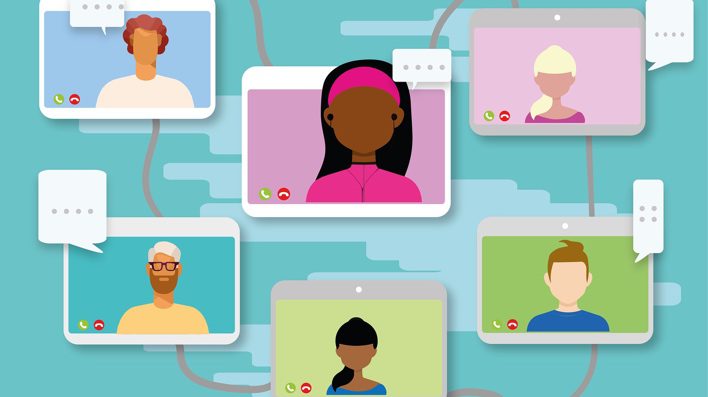 You can also use screen mirroring during a business presentation, where you share your presentation on your device to the display in the boardroom to give everyone in the meeting access to whatever you are saying.
You can use screen mirroring to teach as a lecturer in school. It helps you share information with many students who might be gathered in a hall as you teach. This will help each student to gain access to the teaching material that you are using.
You can use a projector to project the videos, like what they do in cinemas. Screen mirroring helps you to give a more extensive audience availability to see movies and videos from a single device.
How is mirror screening helpful?
It enables a larger audience to access content that can only be found on one device. And it helps one to avoid getting eye problems since you will be able to view things from a distance.
Screen mirroring is a form of entertainment since you can watch various movies from a bigger display.
It is beneficial during the presentation since everyone can see what you are doing.
How to screen mirror from Android to PC(Windows or macOS)?
Here are a few steps to connect your Android device to screen mirroring on the PC.
It would be best to have a cable connecting your Android phone to your computer. Screen mirroring is also possible using the wireless method.
Download the Android mirror screen software on both devices.
Connect your Android phone to your pc through WLAN. Scan the code on your Android phone from your pc.
Enable the screen mirroring option so that you can share whatever you want. On the pc, you will have to connect to the same network.
On your phone, select the other device that will receive the content, the pc. Then do the same thing on the pc.
Start screen mirroring.
If you do not have Wi-Fi, you can use a cable. You can always use the FlashGet Cast App to mirror Android phone to PC or Macbooks with HQ and no lag.
iPhone to TV
If you don't have an Apple tv or smart TV, you can still screen the mirror from chrome enabled Apps on your iPhone. Follow this simple procedure to screen the mirror from your iPhone to the TV.
Connect your iPhone network or iPad and the smart TV to the same WI-FI connection.
Swipe down to get to the settings and find the controller.
Search for your TV and enable the connection.
Open the App you want to use, e.g., Netflix or YouTube, and select your smart TV from the cast button.
Then start screen mirroring.
Android to TV
You can also screen mirroring from your Android to your TV quickly. First, you need to have a smart TV, and if you don't have a smart TV, you can easily use Chromecast to connect your phone to your TV. To mirror your Android phone to the TV, follow the following procedure.
Go to the settings of your phone and look for the cast option.
If you don't see the cast option, go to edit and try to find the screencast toggle option.
Hold the cast option and drag it to the quick settings tray.
Tap the cast option and see whether your smart TV is cast there.
Tap the TV option to start mirroring your Android.
Android to smart TV wirelessly
You can also easily mirror your Android phone to your TV using a Wi-Fi connection. Your Android device and TV should be in the same network connection.
Go to your phone and TV settings and locate the media streamer.
Enable screen mirroring on the phone and TV.
Search for the name of your Android device on the TV screen mirroring menu.
Initiate a connection for your Android and TV.
The Android device screen will display on the TV after the connection.
Best free screen mirroring App – FlashGet Cast
If you want to screen mirrors remotely, you can use some Apps to help you connect to your laptop or Macbook, like FlashGet Cast.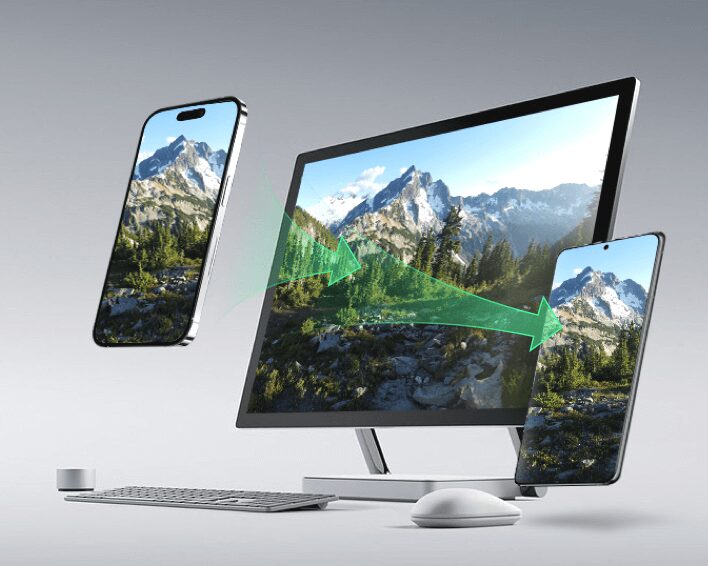 FlashGet Cast is a well-known App that lets you connect your Android or iPhone device to your computer, PC, or Macbook. FlashGet Cast remote control is the security developed, enabling you to connect to the bigger screen remotely.
You can use your FlashGet Cast App to mirror several devices, such as computers, PC, macOS, and windows.
It has an application feature that lets you control which programs can be used on your computer. This helps the application panel decide whether to install a particular application on your computer.
Before installing the FlashGet Cast, access the protection from the panel at the main window and follow the installation process. Then select the action that should be taken when installing unknown Apps, so press allows, and the FlashGet Cast will be installed.
It is recommend that FlashGet Cast for securing your personal and family privacy remotely using the control feature. Its feature enables a theft alert, which means it snaps a picture of someone who tries logging into your device thrice.
Screen mirroring Android to PC using FlashGet Cast
You must do the following to use the FlashGet Cast App with your device.
Connect your device to your PC with a USB cable.
Open the FlashGet Cast App on your PC, and tap "USB."
Enable USB Debugging on your Android. Tap okay.
Your device will connect to your PC, and the content will load.
Start screen mirroring Android device to the PC.
If you wish to exit, press the back button on your PC and disconnect.
Mirror iPhone to Windows via FlashGet Cast
Install the FlashGet Cast App on your iPhone and Windows PC, and connect them to the same Wi-Fi network.
Go to your iPhone's control center and tap screen mirroring.
Search for the Windows PC name on your iPhone device.
Allow the two devices to get connected.
Once the two devices are connected, your iPhone will be mirrored to your Windows PC.
Conclusion
Therefore, if you feel like improving your home entertainment moments or are a lecturer and want to make your lessons more interesting, using screen mirroring for your activities can be very beneficial. Screen mirroring is easy to use from various devices like phones and tablets and connects to laptops. macOS, Windows, and TVs.
You only need to ensure that your gadget is compatible with the features. If your phone has no option, you can easily download the FlashGet Cast App and screen mirror whichever program you want. Android users are not limited to using the option; they can find it on their phones. Improve your entertainment and presentation using screen mirroring.