Roku Cast review: Free App to cast Android screen on Roku TV?
Rokus stand out as very flexible all-inclusive streaming devices because they provide many features beyond just streaming video from different channels and services. The ability to smoothly project or cast your screen onto the Roku screen opens up a world of options beyond this essential characteristic, making it a valuable tool in your entertainment toolbox.
This is quite helpful when trying to quickly project material onto the wide-ranging surface of the large screen. The technique used to accomplish this feat does, however, show some minor variations amongst different devices.
In this piece, we'll go over everything you need to know about Roku Cast and why you need it to screen mirror content to a larger screen.
What is Roku Cast App?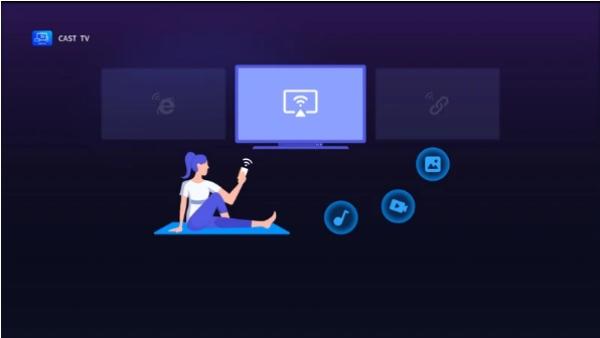 The Roku Cast app lets you cast your Android screen to Roku devices. This enables you to watch channels, movies and YouTube videos on a larger screen with friends and family.
The Roku Cast app was developed in 2021 by Roku Cast Global Ltd. It's only available for Android phones on Google Play Store.
Some of the functions of the Roku Cast app include:
Cast content from your Android phones to Roku devices: With this app you can cast pictures, videos, and music from your Android devices to a larger Roku display. You can then do other things on your phone without interrupting your friends watching the movies on the Roku devices.
Screen mirror your Android phone to Roku devices: Roku cast app also allows you to screen mirror your android devices to Roku devices. The difference between casting and screen mirroring is that the display on the Roku device will be similar to what's on your phone. So you can't do other things on your phone when mirroring a movie or Youtube channel.
Roku Cast features
With a wide range of capabilities that revolutionize the user experience of video streaming and casting, the Roku Cast App is a testimony to utility and creativity.
Each aspect plays a significant role when technology and entertainment merge, combining in a dynamic, immersive streaming environment that can accommodate a wide range of demands and tastes.
1. Seamless content casting
The ground-breaking capability of seamless content streaming is at the core of the Roku Cast App.
This built-in functionality enables customers to easily project a wide range of multimedia material from their mobile devices onto TVs that support Roku.
Beyond simple convenience, this function captures the spirit of contemporary media sharing by allowing users to instantly share their priceless moments with friends and family, whether beloved images or captivating films.
2. Screen mirroring
Roku is at the forefront of innovation with its cutting-edge screen mirroring techniques that can only be experienced through its platform.
It can offer a quality display that takes the screen mirroring game to a new level.
This game-changing feature efficiently bridges the gap between the domain of private device use and the vast canvas of public watching, providing a dynamic fusion that improves visibility and engagement and ushers in a new era of immersive entertainment experiences.
This development not only exemplifies technological innovation but also promotes a more inclusive and engaging viewing journey that resonates with the needs of contemporary consumers.
This helps streamline immersive digital interactions by allowing audiences to engage with content on a larger scale.
3. Device compatibility
The Roku Cast App elevates adaptability by providing compatibility with various devices.
Integrating smartphones, tablets, laptops, and desktop computers supports a multimedia environment.
This inclusion fosters a connected experience connecting with consumers' varied technology tastes while removing compatibility worries.
4. User-centric interface
The app's UI seamlessly blends functionality and usability thanks to a user-centric design philosophy.
Users of various technical proficiency may start a flawless casting adventure because of the straightforward controls and streamlined navigation.
The interface creates a seamless experience by linking the technical complexity and the user's need for simplicity.
5. Customizable playback control
Customizable playback settings are now available in the Roku Cast App in recognition of the value of specialized experiences.
Users may easily change variables to fit their tastes, including resolution, playback quality, and display choices. In addition to optimizing the viewing experience, this personalization ensures that the material adjusts easily to bigger displays.
6. Collaboration
Roku goes into the fields of business and education in addition to personal recreation, expanding its diverse value.
By allowing the projection of important information onto bigger screens during vital presentations or illuminating lectures, it fosters increased visibility, engagement, and successful communication.
The app's collaborative aspect highlights its versatility and adaptability by demonstrating its potential to seamlessly support various professional and educational situations.
Roku enables users to turn conventional presentations into immersive and interactive experiences by allowing the seamless exchange of insights and information on large displays.
By doing this, it emphasizes how versatile of a tool it is, enhancing personal amusement and the effectiveness of communication and information distribution across various fields and businesses.
7. Real-time engagement
Roku's real-time interaction gives users control over playback from their devices, empowering them.
Thanks to this continuous interaction, users can adjust information without pausing the projection, which provides a smooth transition between displays. This function is extremely helpful in preserving an uninterrupted immersive experience.
Pros and cons
Although Roku is an incredible and adaptable streaming platform that has altered the way we consume digital entertainment, it is crucial to note that it, like any technology, has benefits and limits.
These elements contribute to a comprehensive understanding of the platform's capabilities and influence on users' entertainment experiences.
Pros:
Real-Time Control: Real-time interaction lets users control playback directly from their devices, preserving the immersive experience without interfering with the projection.
Enhanced Viewing Experience: The app's screen mirroring function enhances the viewing experience by enabling users to mirror the smartphone display on bigger displays, which is ideal for presentations, gaming, and sharing visual material.
User-Friendly Interface: The app's user-friendly layout simplifies the casting process, makes it usable by people with different technical backgrounds, removes complexity, and guarantees a positive user experience.
Cons:
Network Dependencies: The app's usefulness depends on a steady network connection, and interruptions in connectivity may degrade casting quality.
Potential Latency: Depending on network circumstances, mirroring may experience a minor delay, affecting the real-time aspect of some activities, such as gaming.
Privacy Concerns: Screen mirroring may mistakenly reveal sensitive information on bigger displays, causing privacy issues in certain cases.
Compatibility and pricing
The free Roku Cast App provides minimal casting features, limited device compatibility, and standard visual quality.
It enables users to cast video from their devices to Roku-enabled displays, although there are certain limits regarding supported devices, screen mirroring choices, and casting quality. Remote control features are similarly restricted to basic functions.
On the other hand, the app's paid edition provides a more complete and feature-rich experience. It broadens device compatibility, allowing users to cast their displays to TVs with greater screen mirroring capabilities.
The premium version also includes enhanced remote control tools, giving you more control and involvement. Furthermore, the premium edition has increased image quality, providing a more immersive and high-definition watching experience.
| Features | Free Version | Paid Version |
| --- | --- | --- |
| Price | Free | Paid subscription required |
| Supported Devices | Limited range of devices | Extensive device compatibility |
| Screen Mirroring | Limited functionality | Enhanced screen mirroring options |
| Casting to TV | Basic casting capabilities | Full-screen casting on TV |
| Remote Control | Basic remote features | Advanced remote control options |
| Picture Quality | Standard quality | Enhanced picture quality |
How to cast screen to TV via Roku Cast?
Casting your screen to a TV with the Roku Cast App smoothly links your device with the broad domain of a Roku-enabled TV, elevating your entertainment experience to new heights. This method enables rich multimedia sharing and smooth pleasure. Here's how to cast your screen to a TV using the Roku Cast App, allowing you to go on an enthralling visual journey:
1.Download and install the Roku Cast App on your mobile device or computer.
2.Ensure your casting device and Roku-enabled TV are connected to the same Wi-Fi network.
3.Open the Roku Cast App on your casting device.
4.Choose your Roku-enabled TV from the list of available devices within the app.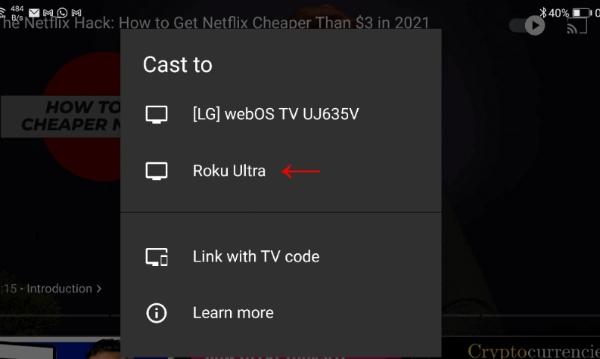 5.Go to your Roku TV's settings and enable the "Screen Mirroring" option.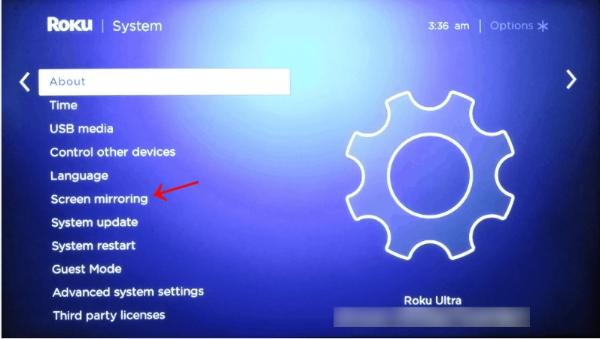 6.In the app, start mirroring your screen to the TV.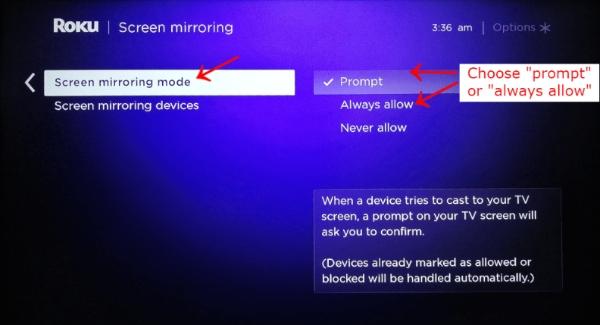 7.Allow the permission request to enable screen mirroring on your device.
8.Your device's screen is now mirrored on the TV, allowing you to enjoy content on a larger screen.
Conclusion
The Roku Cast App acts as a strong bridge between personal devices and Roku-enabled televisions, transforming the world of multimedia sharing and immersive entertainment.
Its benefits include flawless multimedia projection, diverse device compatibility, customized playback choices, and powerful remote control functions.
The software expands entertainment and communication options by allowing screen mirroring and collaboration.
However, it is critical to recognize its limits in iOS casting. In such cases, a feasible solution, such as FlashGet Cast, is advised to fill the gaps and provide a more dependable and comprehensive casting experience for Apple devices.
The Roku Cast App is a creative solution in the broad tapestry of contemporary multimedia interaction. However, customers wanting a smoother iOS casting experience may find refuge in the Flashget Cast.