What is screen mirroring on iPhone and how to mirror iPhone to PC/TV
If you are a gamer, office worker, teacher, or family person looking to find ways to cast your iPhone or iPad screen to PC, smart TV, or another iPhone, then you have come to the right place. Before that, what is screen mirroring on iPhone? We understand that an Android device can be connected to almost all other devices, but it isn't enjoyable to mirror an iPhone. But do not worry. In this blog, we will explain all method's easy steps, and even if you don't have Wi-Fi, you can still connect using wired methods.
So, keep reading if you want to know more.
What is screen mirroring on iPhone?
When you stand in front of the mirror and move your body, your image in the mirror will do the same. The same concept applies to screen mirroring.
"In screen mirroring, the screen of one device is shared with the screen of the second device, and you can watch everything on both devices simultaneously."
Most people use screen mirroring to share small iPhone mobile or iPad screen on a larger screen, such as a TV/PC/LED, in cases like when giving a presentation, attending online classes, watching movies, or sharing special moments with friends or family. Screen mirroring makes things simple and convenient.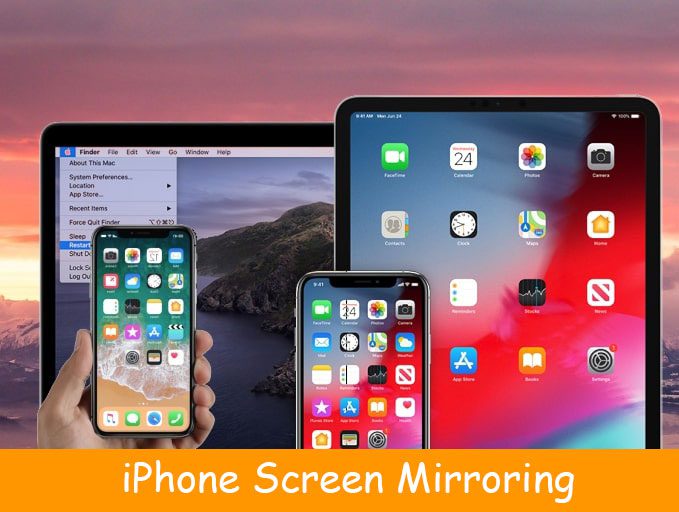 Screen mirroring setting on iPhone
Android users may find it simple to mirror their screens, but iOS users may find it difficult to mirror their iPhones to a PC or smart TV due to device incompatibility. But don't worry, we have covered all.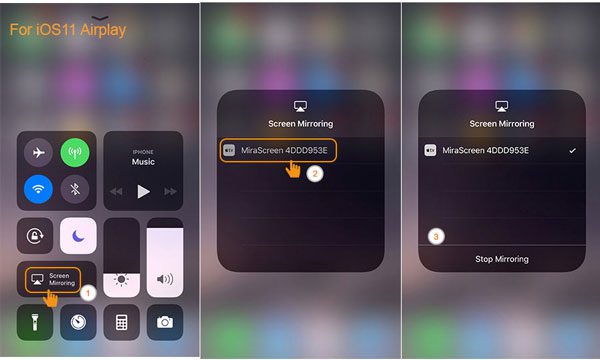 You can follow the below step-by-step guide for easy connection:
Connect the same Wi-Fi network as your second device on which you will share.
Open the Control Center

➢For iPhone X / iPadOS 13 or later: Pull down from the top-right corner of the screen.
➢For iPhone 8 or iOS 11 or earlier: Pull up from the bottom edge of the screen on an

Tap the Mirroring the Screen option on the device.
Select your device from the drop-down menu that you want mirroring.
The technical basis of screen mirroring
So, this is what happens when you screen mirror your mobile screen to a TV;
When you connect the mobile & iPhone to the same Wi-Fi network, they are like in the same playground within reach of one another.
Now, when you turn on the screen mirror option on your TV, it gives off a Wi-Fi "hello" signal; you can think of it like your TV is holding a "be my friend" board in its hand, making itself visible to everyone.
When you search on your phone, it detects devices sending a "hello Wi-Fi signal" using different detection protocols, just like your TV sends. And when you click on your TV on your mobile screen, both get connected just like they will be using a wire.
Finally, when you share your screen, the mobile acts as a sender, generates a stream link (URL) and sends it to the TV via a Wi-Fi connection, which we made earlier.
The TV acts as a receiver, accepts the connection, receives the specified URL data ( which the mobile gave), and starts playing everything that comes from that URL.
This is how basic screen mirroring works. But if you cast your screen with other users thousands of miles away, the screen data is transmitted over the internet.
How to screen mirroring from an iPhone to a PC?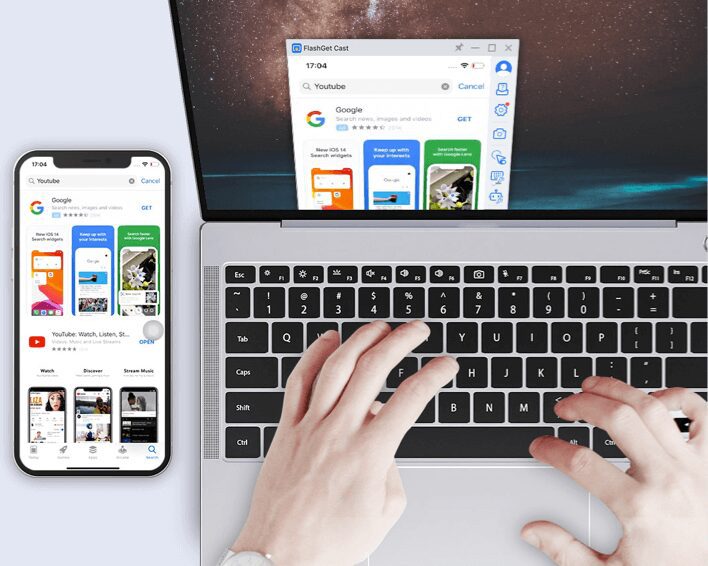 Sharing the mobile screen with a big PC screen is also a common habit out there, which is done for many reasons, such as;
Playing Games
To give Lectures
Business Meetings
During Presentations
Making Youtube Videos
Watching Home Entertainment Videos
More.
You are probably looking here to connect your iPhone to a PC, and there are many ways to do it. If it's a Macbook, then you can connect iPhone via Airplay. But if it's a window, it does not have AirPlay Compatibility. In that case, you can connect your iPhone in 2-ways: a) Wireless Connection via FlashGet Cast; b) Wired Connection via USB cable.
Wireless connection via FlashGet Cast
FlashGet Cast is one of many screens mirroring software you can find online. The best point about this software is that it can allow you to control your iPhone/Android screen on a laptop; for example, you can type on your phone using a laptop keyboard, you can control your mobile screen using a laptop mouse, and so on.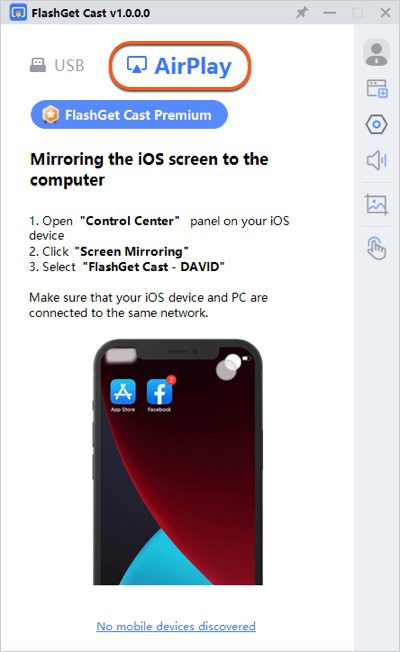 First, you need to download FlashGet Cast. And then, install the software on your PC.
Then to connect the iPhone's screen to PC via FlashGet Cast, follow the below steps;
On the upper right corner of FlashGet Cast Software, click on "AirPlay."
Then Go to your iPhone Contol Center.
Click on the Screen Mirroring option.
Find & Select "FlashGet Cast." That's it. Your iPhone is now mirroring the PC screen.
Wired connection via USB cable
You can connect your iPhone to any Windows-operated PC using a USB cable, but you will need a screen mirror software on your PC that can support the connection.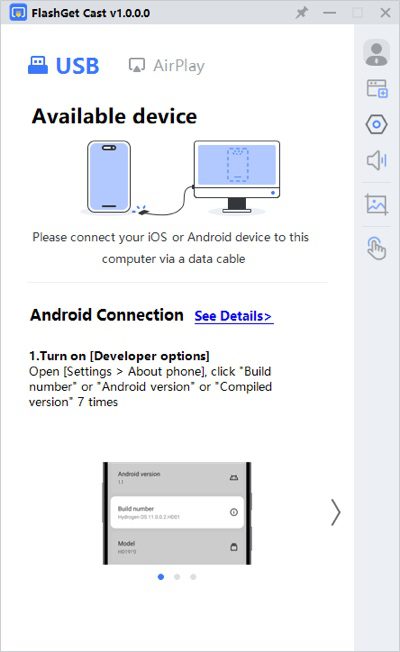 One of these software is FlashGet Cast which you can use in the following ways;
Download FlashGet Cast & install it on your PC.
Then open the FlashGet Cast app on your PC and click on the USB mode, which should be in the upper left corner.
Connect your iPhone to your computer using Lightning Cable (USB supported). A pop-up window named "Do you trust the computer" will appear on the iOS device. Tap "Trust" and enter the unlock code.
On the FlashGet Cast window, your iPhone will shown in the available list; tap on it.
That's it. Using the iPhone's screen now should be on the PC.
Bonus tip | How to record iPhone screen on PC?
Once you have established the Mirror Connection from iPhone to PC, you can record the screen in 2-ways: a) On Windows PC, Use Game Bar; b) On Macbook, Use Quick Time Player.
On Windows PC, use Game Bar
The good news is you can record the iPhone or iPad screen, which is now visible on your PC using a Pre-Built Xbox Game Bar app on Windows. But the bad news is, you need to do some settings first because the Game Bar option is not enabled in some windows.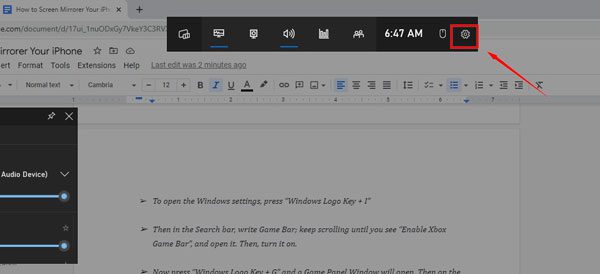 So, follow the below steps;
To open the Windows settings, press "Windows Logo Key + I."
Then, in the Search bar, write Game Bar; keep scrolling until you see "Enable Xbox Game Bar," and open it. Then, please turn it on.
Now press "Windows Logo Key + G" > on the top right middle; you will see the setting icon; click on it.
Then, on the left side list, look for "Capturing" and tap on it > finally, on the right side, you will see Audio to Record, and select the option "All." That it. All the settings are done.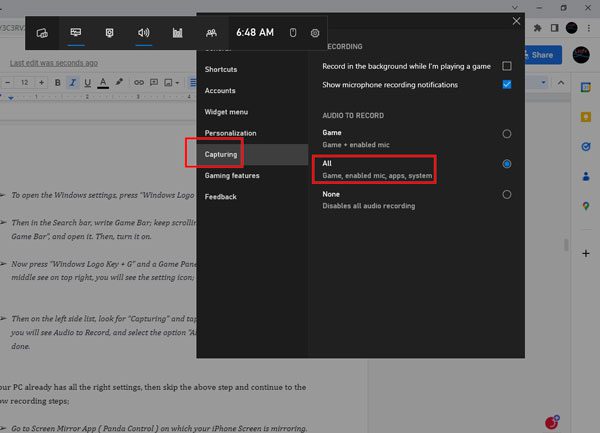 If your PC already has all the right settings, then skip the above step and continue to the below recording steps;
Go to Screen Mirror App (FlashGet Cast) on which your iPhone Screen is mirroring.
Then click on " Window Logo Key + Alt + R," and the recording will start; it will only record the iPhone or iPad screen on your pc.
On Macbook, use QuickTime player
First, connect your iPhone and Mac using a lightning cable.
Then start QuickTime Player. And go to the top, select "File" > "New Movie Recording."
Now, click just beside the Record Button, and there you will see your iPhone, select it.
To Record, click on Red Record Button, do your stuff, and click on the "Red Button" again when finished. Your recording will be automatically saved.
How to screen mirror from iPhone to TV?
If you want to show videos, images, or some app from your iPhone's screen to a Big TV, then it's no biggie. Whether you are sharing your iPhone's screen for personal purposes or to give a presentation in the office, you can do it in the following ways: a) Smart TV's Compatible with Apple Devices(such as Apple TV); b) TVs with No Airplay Compatibility.
Smart TV that compatible with AirPlay
If your smart TV(such as Apple TV, LG TV) is Airplay supported, you can easily connect any Apple device for screen mirroring. Follow the below procedure;
Connect your iPhone to the same Wi-Fi network as your Smart TV ( Airplay Supported ).
Open the control center on your iPhone and click on the screen mirror;

➢On iPhone X / iPadOS 13 or later, pull down from the upper-right edge of the screen to open the control center.
➢On iPhone 8 / iOS 11 or earlier, pull up from the bottom corner of the screen for the control center menu.

At last, choose your Smart TV, which is Airplay supported. If a password appears on your TV, write it on your mobile. And that's it; your iPhone content will now be mirrored on the big TV screen.
TV's with no Airplay compatibility
If your smart TV does not support the AirPlay feature, then you need to screen mirror using these methods;
i) By using third-party software
If your TV is Andriod supported but does not have an Airplay feature, do not worry. All you need to do is;
Go to Google Play on your TV and search for apps that support Airplay screen mirroring, like AirScreen, ApowerMirror, TV Cast, etc. Simply install and launch these apps.
Now your Smart TV has become Airplay Supported, and you can connect an iPhone.
ii) By using an external dongle
If your TV is smart but not Andriod-supported, then you can use an External Screen Mirroring Dongle device like Chromecast.
To connect Chromecast to your TV, power it via a USB cable > then connect its HDMI end to your TV. And that it; Chromecast is connected.
Now, you need to install any Chromecast Supported app on your iPhone because Airplay is not supported with Chromecast. For example, go to Apple Store, search for "Screen Mirroring on Chromecast" from AirBeam TV and install it.
And that's it; now you can share the screen with a TV.
iii) By Lightning cable
You can connect your Non-Airplay Compatible Smart TV to your iPhone using a lightning cable; follow the below steps.
Buy a lightning Digital Adapter ( AV or VGA ) and connect it to your iPhone.
Then Buy an HDMI-supported Lightning cable and connects one end to the adapter ( which is connected to iPhone ) & other to the TV.
If your HDMI Lightning cable has a USB side, connect it to the TV or the charging adapter.
And that's it; your iPhone content will be on the TV without installing any other software.
How to screen mirror from iPhone to iPhone?
iPhone-to-iPhone mirroring is a fantastic feature that allows you to transfer files between your devices, watch videos, view photos, and play games. Screen mirroring from iPhone to iPhone / iPad is the same as mirroring an iPhone to a PC or TV.
Sadly, screen mirroring from iPhone to iPhone via Airplay is impossible. Airplay only enables sharing screens from Mobile to PC/TV or Macbook to TV. But, the good news is you can share one iPhone screen with another using third-party apps.
Via AirDroid Cast
AirDroid Cast is an official screen mirroring app that you can find on Appstore. It is built for iOS devices, but you can also use it to connect to Android devices. To use it, follow the below guidelines;
Search "AirDroid Cast" on the App store & download it on both iPhones.
On the Receiver iPhone, launch the app, click "Recieve Screen Cast," and you will see a QR Bar Code & 9-digital Cast code.
On the sender's iPhone, open the Airdroid app, scan the QR code from the receiver's iPhone, or enter the 9-digital code on the sender's mobile Airdroid app.
Follow the mobile instruction for connection and allow all permissions. That's it; one iPhone screen will probably be mirrored on another.
Via Team Viewer
TeamViewer is a fantastic app for easily streaming and sharing media files from iPhone to iPhone. But using Teamviewer can be a bit confusing. Follow the below easy steps for proper usage;
Install the "Team Viewer Remote Control App" on Receiver iPhone.
Install the "Team Viewer QuickSupport App" on Sender's iPhone.
Now, on Sender iPhone > Open App > Copy the TeamViewer ID.
On Receiver iPhone > Open App > enter the TeamViewer ID ( which we copied earlier ) > Finally, tap on the remote control option.
On Sender iPhone application will ask for permission; give it.
Now, on Sender iPhone, go to Control Centre > tap on Screen Mirror > Select the Receiver iPhone Team Viewer> and tap on the broadcast. That's it; your iPhone screen will start mirroring instantly.
Via AnyScreen
AnyScreen is one of the few screens mirroring apps that allows connection between two iPhones. This app uses the Airplay feature to do so. To use it, follow the below steps;
First, install the Anyscreen on both iPhone devices.
Connect both Phones to the same Wi-Fi network.
Open the Anyscreen app on both devices.
On Sender iPhone, open the control center> Click on Screen Mirror > Select the receiver device ( which will be shown as Anyscreen + Device name ).
That's it; your first iPhone screen should mirror the second iPhone.
FAQs
No, it is impossible to mirror from iPhone to PC without software.

You see, the problem here is you can connect the iPhone to PC using a lightning cable, but there must be something in the PC which receives the mobile screen data & show it on the PC screen.

The software is already pre-built on Smart TVs, Macbooks, and other smart devices. But on Windows PC, you need to install them, which is a straightforward process. You can install the FlashGet Cast App, one of the best screen mirroring software in the market.
Yes, screen mirroring from iPhone to PC without using a Wi-Fi connection or Airplay is 100% possible. All you need is a USB-supported lightning cable & third-party screen mirroring software in the PC. For the detailed procedure, you can read our above guide.