Reflector 4 review 2023: details, pricing, features & alternatives
We live in a world of gadgets that need interconnectivity for fun, productivity, or just to view our content on our preferred screens. That's why screen mirroring apps were developed to enjoy a seamless cast to TV experience from our mobile phones. Reflector 4 is one of the promising screen mirroring and casting apps that enhance our content viewing experiences.
In this extensive review, you will learn everything about this software to better understand whether this simple app is good enough to effortlessly display the content from your mobile devices onto larger screens such as PCs.
We will discuss the features, compatibility, pricing, pros, cons, and much more to help you understand this software in depth. By the end of this article, you will be equipped with all the information to decide whether Reflector 4 is the right software for your screencasting experiences or not.
What is Reflector 4?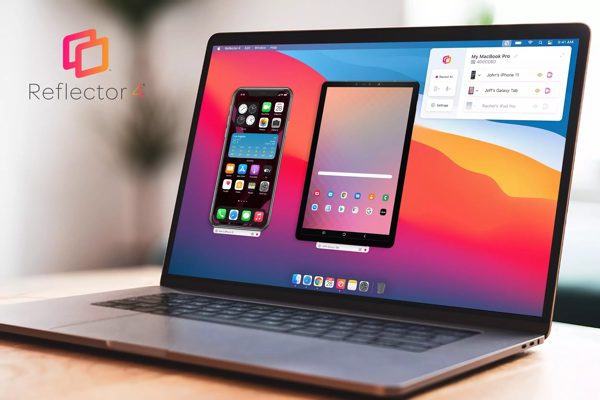 Reflector 4 is a simple screen mirroring and casting software for your Windows PC or Mac to connect with your mobile devices. It allows users to mirror their devices onto bigger screens, such as TVs or PCs. With Reflector 4, users can seamlessly share their presentations, media content, games, and more on a bigger screen for enhanced viewing and collaboration.
AirSquirrels, the developer of Reflector 4, is a renowned software company specializing in creating innovative solutions for wireless screen sharing and mirroring. They launched the Reflector app in 2012 for Windows and macOS.
Since then, this company has been updating this software to fix bugs and update its features. Reflector 4 is the latest addition to the series of this software's versions, with a lot of new features and upgrades compared to its predecessors from versions 1 to 3. Version 4.0 was launched in March 2023 for Windows and macOS simultaneously.
While specific media or store reviews may vary, as a product line, Reflector has received positive feedback for its ease of use, compatibility across different devices, and ability to deliver smooth and high-quality screen mirroring. This software gathered a 4.0/5 star rating on G2 with 48 reviews collectively.
Many users appreciate Reflector's user-friendly interface and its support for a wide range of devices, including iPhones, Android devices, PCs, and TVs. The software's ability to enable remote control, capture screenshots, record screens, and support multi-screen mirroring simultaneously has garnered praise from individuals and professionals alike.
As users continue to seek seamless and efficient ways to cast their screens to larger displays, Reflector 4 aims to meet their needs with its advanced features and capabilities with constant updates to remain compatible with the latest versions of Windows and macOS.
Reflector 4 features
Whether you want your phone's content to be broadcast to TV or PC, share presentations with your colleagues, or play games on larger screens, Reflector 4 makes all possible with its simple yet powerful software.
Wireless screen mirroring
The first and foremost feature of Reflector 4 is to mirror your screens without having to go through any difficult steps. You can mirror all of your mobile phone's content onto your PCs in just a few clicks.
You just have to launch the app on your PC and enter the code shown on the app onto your screen mirroring option on your mobile phone.
Universal device compatibility
The screen mirroring is compatible with Google Cast for Android and Chromebook mirroring. It also supports AirPlay mirroring for iPad, iPhone, and iPod mirroring. It is also compatible with Miracast for Windows mirroring.
Multiple-screen mirroring
Reflector 4 allows screen mirroring for multiple devices simultaneously. You can mirror multiple devices at once to view the content from different devices in one place altogether. This multiple-screen mirroring feature works best for joint working or gathering data to be viewed in one single place.
Screenshot and recording
You can capture screenshots of your devices and add them as pictures using Reflector 4. It also allows you to record screens of your favorite devices. Whether you want to record tutorials or show demo videos, this software is the only thing that you need on your PC. You can record multiple devices simultaneously using this software.
The screen recording function is supported up to 60 fps. You can record voice-over and webcam videos using your computer's resources. Also can also beautify your recorded videos by adding multiple frames. You can utilize other options, like changing the background color or video resolution, to optimize your recorded videos. The screen recording function is compatible with iOS, iPadOS, MacOS, ChromeOS, Windows, and Android screens.
Easily manage or control devices
Reflector 4 has an amazing feature that lets you control your connected devices. Using this software, you can use this function to allow or deny the devices to be connected.
You can hide, display, or change the appearance of the connected devices using the control feature.
The smart layouts help enhance the viewing experience. You can even change the viewing frames of connected devices and set the color of the device as you like.
It also can help you emphasize the important devices from device control. You can expand the preferred screen to focus on a specific mirrored device, ignoring others for the moment. You can benefit from this feature, especially in academic and professional environments. This is an essential feature for collaborative working for better productivity.
Other features like "Always on top" Help you manage and optimize your screen mirroring experiences.
Excellent security
The security feature of Reflector 4 allows you to restrict access to connected devices. You can choose which devices are allowed to have a connection and block others to prevent data leakage and protect privacy.
Audio-only mirroring
Don't want your content to show on the connected devices and want to play the audio only? Or you may want to listen to your favorite songs or audio file on your mobile phone on your PC. Reflector 4 allows audio-only streaming without delays.
Extended mirroring options
Reflector 4 allows integration with AirParrot, another screen mirroring software from the same company. You can enhance your screen mirroring experience with extended features and options by integrating AirParrot into Reflector 4.
Compatibility and pricing of Reflector 4
We have made a table for you to grab most of the features of Reflector 4 software, so you can know about its highlights quickly.
Features
Status
Compatibility
Android, iPhone, iPad, iPod, Mac, Windows, Chromebook, Apple TV, Smart TV
Compatibility with HDMI Dongles
Chromecast, Miracast
Compatibility with built-in screen mirroring
Google Cast, AirPlay
Pricing
A one-time payment for the following licenses:

●$21.99 for the Universal package for Windows and macOS.

●$19.99 for Windows only.

●$19.99 for macOS.
Whether to provide a free trial
Yes. They provide a 7-day free trial.
Screen mirroring to PC
Yes
Screen mirroring to TV
Yes
Remote control
Yes
Screenshot and screen recorder
Yes
Multi screens support at a time
Yes
Multi-network condition support
Not specified
Reflector 4 pros and cons
Let's talk about the obvious advantages and potential limitations of Reflector 4.
Pros
Ease of use
Timing is important in matters related to technological collaborations. So is the case with screen mirroring. Users want to mirror their content on other screens as soon as possible.
Reflector 4 has a simple user interface, and the procedures like cast to TV or PC from mobile phones are done in a few clicks. These easy-to-use features provide a super-fast and hassle-free mirroring experience.
Multiscreen collaboration
Many people use screen mirroring to collaborate in a single place like a PC or a TV. Reflector 4 allows users to mirror multiple devices to be displayed in a single place.
Plus, you can focus on a single device or switch between devices very easily. This multi-screen feature is quite helpful for professionals while discussing presentations.
Adaptive network support
Reflector 4 works well in varying Internet conditions. Your devices will not lose connections even in bad network conditions. That makes users enjoy a seamless display of their desired content on bigger screens without delays or interruptions.
Versatile screen mirroring options
The developers of the Reflector 4 software know that screen mirroring is all about having better content-viewing experiences. That's why they have introduced multiple layouts to enjoy your mirrored content.
You can have your mobile phone displayed in the form of a phone on your PC or you can enjoy it using a full-screen mode.
Simple pricing
Unlike other screen mirroring apps that have complex pricing plans, Reflector 4 doesn't confuse its customer by offering multiple pricing options.
They don't have monthly or annual payments or different pricing for limited or full-feature software. They have a simple one-time payment for the users to enjoy all the amazing features forever.
Cons
No free version
While there are many screen mirroring apps available for free on the Internet, Reflector 4 is only available in a paid version.
Non-inclusive software
This software costs separately for Windows and Mac. So the users having PCs with both operating systems would have to buy software for each operating system.
Limited free trial
Reflector 4 provides a free trial of 7 days only. A user may get confused about buying this software if he can't decide within 7 days.
No mobile app
Reflector 4 has not launched any app for Android or iOS devices. This software only needs to be installed on the receiving end, such as a PC or Mac.
While this may suit users who are more comfortable downloading software on PCs, others may prefer having a mobile app or both.
People also ask about Reflector 4
Final wrap-up
In a nutshell, the Reflector 4 software is an easy solution to enjoy an uninterrupted and amazing cast to tv experience. Given its amazing features, Reflector 4 is one of the highly convenient solutions to wirelessly mirror your devices without having to be a tech expert. But we cannot rule out some of its limitations, like the substantial pricing and non-inclusive support for Windows and macOS.
So, if you are considering having a Reflector 4 alternative for a better, immersive, and affordable cast to TV and PC experience, consider FlashGet Cast, which offers most of the Reflector 4 features for free in the Basic Version. Unlike Reflector 4, FlashGet Cast is inclusive software that works well for casting Android and iOS devices. FlashGet Cast is preferable due to its simpler interface and ease of screen mirroring setups. Plus, you get the option to connect your mobile device wirelessly or via USB.