ApowerMirror review 2023: a solution to mirror screen to TV
While searching for the mirror phone screen to TV apps, ApowerMirror may have come to the top. And now if you want to know a little more before downloading this software, then you have come to the right spot.
In this article, we will discuss all ApowerMirror software. ApowerMirror completes company history. its best eight features like playing mobile games on PC and control Android on PC. Besides that, we'll talk about its pricing plans' limitations and pros & cons. So you can decide whether it is adequate for you or not.
What is ApowerMirror?
As the name suggests, ApowerMirror is a compelling screen mirroring software. ApowerMirror is compatible with iOS and Android devices, including MacOS/Android/Windows and all other operating systems. It helps you cast phone screen to a bigger screen like PC or TV so you can play mobile games on PC.
In 2011, two brilliant developers laid the foundation of WANGXU TECHNOLOGY (HK) CO., LIMITED. In the next nine years, they developed over 40 best-selling apps, under the name Apower, like ApowerEdit, Apower REC, ApowerPDF, and much more, including ApowerMirror.
ApowerMirror 1.0 was released on Dec 5, 2016, and as of March 2023, it has over 10 Million downloads on the Playstore alone. And if you consider iPhones, PCs, TVs, and other device downloads, it will be over 30 Million downloads.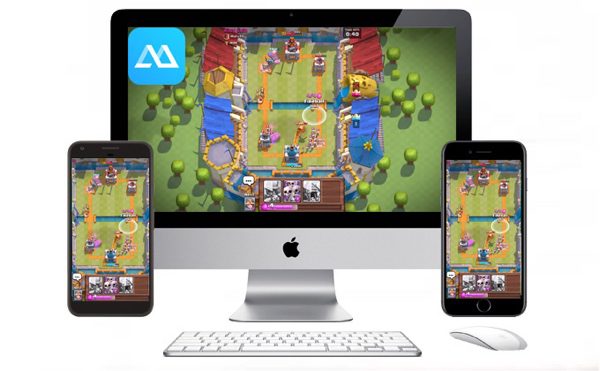 Apwersoftwares are listed on many reputable websites like Softonic, Filehippo, CNET, Makeuseof, etc. Most of these websites are known to be fair, and they give excellent ratings on the Apowersoft apps.
8 features included in ApowerMirror?
Multiple operating systems compatibility
The first and foremost point anybody wants in screen mirroring software is that it works with all mobiles, laptops, and TV brands. And ApowerMirror works with all because it operates by installing the app on both receivers & sending devices and operates on its own mirroring protocol; it does not rely on Airplay, Chromecast, or other mirroring protocols. Whether you have iOS devices or Android devices, you can use ApowerMirror.
So, if you want to mirror phone screen to TV from Android/iOS mobile phones, or any other PC, ApowerMirror will do it all. Even if you cast PC screen to a bigger screen, ApowerMirror will do it too.
Multiple devices simultaneous mirroring
Multi-screen viewing is also becoming very famous these days. People mostly use it to mirror different mobile phone screen on one laptop for making comparison videos or mirror different laptop screens on one bigger screen like a TV to keep an eye on them all/to give presentations.
ApwoerMiiror allows its premium members to mirror up to 4 screens simultaneously, and they will be mostly lag-free.
2k & 90 FPS mirroring options available
ApowerMirror is best for those who want to enjoy movies in crystal clear quality with the highest fps rate possible. ApowerMirros is also best for gamers who enjoy small mobile phone screen games on big TVs to see objects clearly. It is a good choice to play mobile games in full-screen mode.
USB & Wifi connection modes
ApowerMirror thinks of all its customers, and if someone doesn't have wifi available, they can simply connect their devices using a USB cable. Usually, You will need to buy an AV adaptor for a USB cable connection. But ApowerMirror gets rid of adaptors, and you can connect directly without spending money or going to the market.
While if wifi available, ApowerMirror wireless mode offers better video quality than a USB cable connection mode.
Worldwide cloud mirroring
You know, during COVID, the education system kind of became dependent on the online lecturing system, which was a way of remote screen mirroring. And after that, office people prefer giving online presentations to faraway investors & employees, while teachers prefer giving lectures online to their students from their homes during emergencies. And whatever the case, the ApowerMirror is made for all this.
Control phone from PC
As we know, Pubg & other Android games are becoming very popular, but playing them on a small mobile screen is very hard. Moreover, some computer players are adjusted to using a keyboard & mouse, so they find it very hard to play these Android games.
So, to solve the keyboard & mouse problem, millions of players are buying external devices which allow their mobiles to connect to these and control phone. And to solve the 2nd small screen problem, these players then connect their mobiles to a laptop or TV using a cable or wirelessly.
But ApowerMirror is one in all solution for everything. Gamers don't need to buy external devices to control Android from PC with a keyboard/ mouse, nor do they have to separately mirror their Android phone screen because ApowerMirror not only cast phone screens on laptops with just one click but it also allows them to control Android from PC, control mobile screen with laptop keyboard & mouse.
Very few mirroring apps in the world allow people to control Android from PC. And to make it worse, only a handful of these are good enough for gaming. Fortunately, ApowerMirror and FlashGet Cast are among them. They help you control Android from PC and control phone.
Real-Time annotation
During presentations and lectures, to point towards something or explain it in detail, we need to draw some points so the viewers can understand properly. And ApowerMirror's real-time annotation feature will allow you that. For example, when you are mirroring from a laptop to a TV, you can click on the annotation icon on a laptop, draw anything on its screen, and everything will be mirrored to the TV in real-time.
Take screenshots & screenrecord
During a presentation, sometimes we need to take notes of important info like company specs, rules, schedules, educational info, etc. As well as, during games, players need to record their gameplay for personal saving or social media uploading for their fans.
Fortunately, unlike other screen mirroring apps, you don't need to use separate screen recording apps because ApowerMirror's built-in screenshot & recorder feature will capture your moments in ultra-clear quality.
ApowerMirror pricing plans and compatibility
ApowerMirror offers its customers three package plans based on their needs. You can compare these package plans below to choose the best one for you;
| | Free Plan | LocalCast Plan | AirCast Plan |
| --- | --- | --- | --- |
| Price | 0$ | $39.5 | $19.95 |
| Short Intro | Offers Limited Screen Mirroring and some basic control features | Offers Unlimited Screen Mirroring and all advanced features | Offers Screen Mirroring Worldwide but limited control features |
| Casting Via | USB & Local Wifi | USB & Local Wifi | Any Internet connection |
| No Watermark | ❌ | ✅ | ✅ |
| Screen Resolution | 720p | 2k | 720p( iOS/Android phones to Macbook not supported ) |
| Screen Mirroring Time | 10 min max | No limit | Billing by Time |
| Screen Record Time | 3 mins | Unlimited | Unlimited |
| Landscape Mode ( Full Screen ) | ❌ | ✅ | ✅ |
| Windows PC Sound to a TV/Mobile | ❌ | ✅ | ✅ |
| Devices Simultaneous Mirroring via Wifi & USB | 1 | 4 | 1 |
| Control Android with Keyboard | Default Keys | Custom Keys | ❌ |
| Control iOS with Keyboard | ❌ | ❌ | ❌ |
| Control Android-Android / Android-iOS | Max 10 mins session | ✅ | ❌ |
| Simultaneous Mouse Control Android/iOS | 1 | 4 | ❌ |
| PC to PC Casting | ❌ | ❌ | ✅ |
| Worldwide Screen Mirroring | ❌ | ❌ | ✅ |
| Adjust Brightness, Contrast, and saturation | ❌ | ✅ | ✅ |
| Real-Time Annotation | ❌ | ✅ | ❌ |
ApowerMirror pros & cons
Pros
Works with all operating systems like iOS/Android/Windows/MacOS/all smart TVs, etc.
Offer to mirror through all platforms like USB, local Wifi & the internet ( Offers both local & worldwide mirroring ).
Include all the features which you want in a mirroring app, like 2k ultra clear casting, screenshots & recording, and control with keyboard/mouse function.
One of the biggest benefits of Apowermirror is its quick wireless mirroring speed, unlike you have seen in any other mirroring software. The lag is almost none, and the frame rates are very smooth, even in mirror phone screen to TV case.
If you want to enjoy movies, Apowermirror also offers landscape mode, which basically enlarges a small mirrored mobile screen on a laptop and turns it into a full screen so you can stream movies in real-time and enjoy them on a big screen.
Finally, one of the Apowermirror functions, which is very rare among mirroring apps, is it allows to change in brightness, contrast, & saturation of the mirrored screen in real-time, which helps in seeing clearly and recording better quality screenshots & videos.
Cons
In the Free plan, the options are minimal. For example;
Recording time only 3 mins
No PC-to-PC mirroring allowed
720 p low-quality mirroring resolution
the screen mirroring time is only 10 mins
You can't change the keyboard keys' position according to games.
Real-time annotation is not possible. And much more.
The keyboard control function is not available for iOS mobiles. So, if you are an iOS owner, you can't play games using Apowermirror.
In AirCast mode, you are cast phone from a different internet ( same house/far away place ), and you can't control mobiles from a PC keyboard or mouse.
If you are mirroring through a different network or from a faraway place, then you need to buy an AirCast plan, and you will be charged per minute, which can be very costly.
FAQs about ApowerMirror
Apowermirror is a reputable company with 40 Active products in the market. So, you don't have to fear your private data getting stolen or hacked using Apowermirror.
If you want to download ApowerMirror for PC, it's officially completely free for downloading, and you can download it here from their official website. But to use Apowermirror record, control, and other advanced features, you must buy their costly subscription.

However, you can mirror for 10 mins & record for 3 mins for free with Apowermirror basic plan.
Mirroring Apowermirror from an Android mobile to a TV is very easy, and you can do it by following the below steps;
Grab your mobile, open the Playstore, and download the ApowerMirror app.
Now, open the application store on your TV and install ApowerMirror App.
Connect your television & android mobile to the same wifi.
Now, Launch Apower Mirror App on your TV, and you will see a Bar code/QR code.
On your Mobile > open Apowerapp > click on Local cast > and then either scan the QR code with a mobile camera or simply read the code from the TV and input it on your mobile.
That's it. After some permission, your mobile screen will be mirrored to the big TV screen.
Final wrapup
Without a doubt, ApowerMirror is a great screen mirroring software. While it has one big advantage in its Free plan, there are tons of limitations on advanced features, and even you can't do screen mirroring for more than 10 minutes per session, which is really bothersome.
So, the Apowermirror mirror is unsuitable for most students, teachers, and office people who either rarely use it or don't want to spend money on it. And for those people who are looking ApowerMirror alternative with no subscription fees, then FlashGet Cast is the best option for them.
FlashGet Cast has the same casting & control speed as ApowerMirror, but unlike Apowermirror, it offers various features for free like;
No watermark
Two-Way audio
Unlimited screen mirroring time
Simultaneous many devices mirroring on one screen
If you are digging for a powerful but free app that will allow you to mirror screen to the TV from Android/iOS/Windows/MacOS devices, give FlashGet Cast a try.