All Screen Cast review: A App can cast all Screen to Roku TV?
Wondering how to cast content from a small screen to your Roku TV? If that's you, then this guide is perfect to help with that. Watching content from a small screen you have an option to have a better view can be frustrating. It might be even more frustrating if you have the right tools to revolutionize your streaming and viewing experience but don't know the right steps to implement. Fortunately, this piece has everything you need to know about casting. It further goes deeper into the nitty gritty about All Screen Cast App and whether it's what you need to transform your viewing experience.
All Screen Cast App overview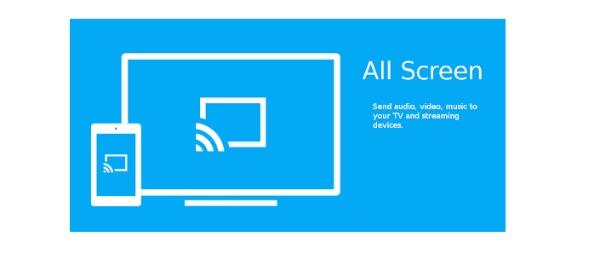 Since its beginnings, the All Cast App has established itself as a user-friendly and adaptable screen mirroring and casting solution, satisfying the growing need for seamless digital content sharing.
It is well-known and used in both private and public contexts, with millions of downloads across several platforms.
It is a well-liked option among people and organizations looking for a simple solution for screen casting requirements because of the app's user-friendly design, wide device compatibility, and support for multiple video kinds.
Features of All Screen Cast App
To know what the All Screen Cast app is about, you must look closely at the features. These features will help you know if this app is all you need to solve your casting issues.
Furthermore, you'll get to know why this app is universally appreciated and why you need to incorporate it into your casting plan.
Here are some of it's features you need to know about:
1. Screen mirroring and projecting
Users may project the information from their mobile devices, such as smartphones or tablets, onto a bigger screen, such as a television or computer monitor, using an all-screen cast app, a potent tool for screen mirroring and projecting.
This function is helpful in various situations, such as presentations, sharing media material, or just getting a more engaging watching experience.
To ensure compatibility with various smartphones and tablets, these applications often support Android and iOS devices.
Users may stream films, display images, operate programs, and more on the large screen with flawless real-time mirroring, making for an engaging and flexible viewing experience.
2. Security
One of the main reasons that users may choose to use any app is if their security is guaranteed. Nobody wants to use an app that will leak their information or jeopardize their security.
That means you need to go for a casting app that will encrypt information and store it. Fortunately, all cast has everything you need to make this possible.
They have a transparent way of dealing with their users, which makes you feel secure and not have to worry about potential leaks that might have your personal information used negatively.
3. Easy to use
Every user needs an app that is secure and easy to use. Nobody has the time or wants to deal with an app that's hard to maneuver.
You need to get around the settings easily and implement the steps required to make the process seamless.
That means you need an app like All Screen Cast that can navigate and implement the settings.
Ideally, you need an app that can go through the settings without needing help from an expert.
4. Casting process
The core of an all-screen cast app's performance is the projecting procedure. It transforms how users share and engage with material by enabling them to effortlessly mirror and project the screen of their smartphone onto another screen.
Users may choose the media they want to cast, such as a movie, picture, slide show, game, or presentation, and start the casting process by following a few easy steps.
For a seamless and simple casting experience, the app often offers choices for the destination screen or device.
All-screen cast software must have this capability since it enables users to share their digital experiences with others and enhance their content on bigger monitors.
Pros and cons of All cast App
The way we share and enhance our digital experiences has been transformed by all-screen cast applications, which provide some advantages and conveniences. However, they have their own pros and downsides, just like any other technology.
Pros:
Versatility: The capability of all-screen cast applications is flexible and enables users to mirror or project their screens onto bigger panels. Due to their adaptability, they may be used for various purposes, including corporate presentations, entertainment, and learning.
Multiple Device Support: These programs often work with various gadgets, including desktops, tablets, and smartphones running Android and iOS. This wide range of interoperability allows users to connect and cast from various devices.
Free With No Restriction: Several free all-screen cast programs don't place any restrictions on screen mirroring or casting. Users don't need a premium version to use the basic features.
Support For Various Media: Apps for all-screen casting are not restricted to a certain kind of material. They provide consumers with a versatile platform for sharing different types of material by enabling users to cast movies, images, games, presentations, and more.
Subtitles:Several all-screen cast programs allow users to incorporate subtitles when casting videos. Users who depend on subtitles for accessibility or watch material in a language other than the original will find this very helpful.
Cons:
Browser limitations:Users may run across restrictions while employing web-based screen casting for certain websites or online content. Screen casting may only work on some websites, making for a less-than-complete experience.
Detection Issues:All-screen apps sometimes may have trouble locating or connecting to the destination device. When trying to start a casting session, this may irritate you.
Ads: Ads are often included in all-screen cast applications' free editions. While these advertisements aid in the app's growth, they might be invasive and interfere with the user's experience.
How to use All Screen Cast App to cast on TV?
All Screen Cast Apps have made it simpler to harness the power of screen mirroring and casting.
The screens of your mobile device may be seamlessly projected onto a bigger TV screen with these programs. Here are the steps you need to follow to make this happen:
Install the app:
Install the All Screen Cast App first on your smartphone. Typically, you can find it on the app store for your smartphone, such as the Google Play Store for Android or the Apple App Store for iOS.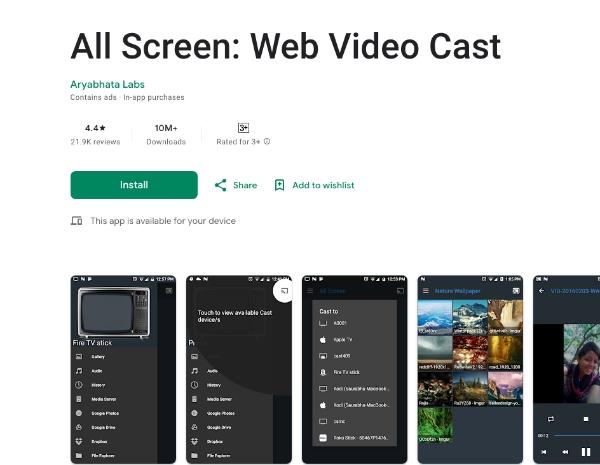 Connect to an identical network:
Ensure that All Screen Cast and the device you wish to cast to are linked to the same Wi-Fi network as your mobile device and Roku TV to work effectively.
Launch the app:
Use the All Screen Cast application on your smartphone.
Select content:
Pick the media you wish to stream to your TV. It might be a presentation, a slideshow of pictures, a movie, or any other appropriate material.
Choose the device:
Find the "Cast" or "Screen Mirroring" icon in the application. It may be tapped to start the casting process on your Roku TV.
Enable screen mirroring:
Choose your Roku TV or casting device from the list. Depending on the app and your TV, you may need to authenticate the connection or enter a PIN. Once verified, the screen of your mobile device should begin to reflect on the Roku TV.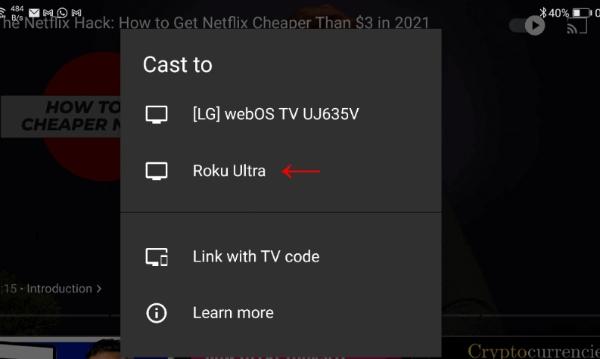 Start casting:
The TV is seeing your screen on it right now. Your mobile device's actions, such as playing a movie or browsing a presentation, will be replicated in real-time on the TV.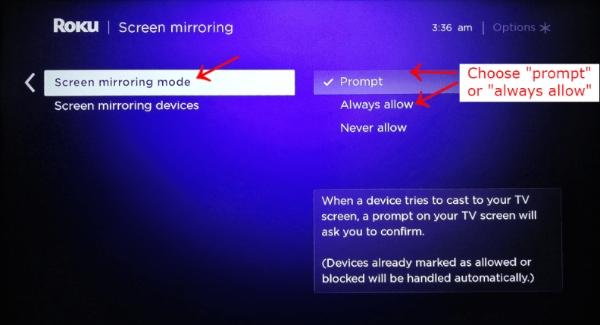 Control playback: Playback may be managed straight from your mobile device. You may stop, play, fast-forward, or rewind the material with your phone or tablet. On the TV, these actions will be reflected.
Subtitles:
Make sure the subtitles are turned on on your mobile device before viewing a video with subtitles. Additionally, they must be reflected and shown on the TV.
Conclusion
All Screen Cast Apps provide a practical means to mirror and cast displays; however, they could have certain issues that FlashGet Cast App can solve.
All Screen Cast Apps often have connection problems, have problems working with certain devices, and function differently in various network conditions.
FlashGet Cast App sets itself apart by offering a more complete and flawless casting experience. It shines in terms of stability, providing a dependable connection with few interruptions.
Additionally, the FlashGet Cast App offers extensive compatibility with a variety of devices, guaranteeing that users can easily cast their screens no matter the brand or model of their device.
Furthermore, it improves performance even under less-than-ideal network circumstances, resulting in smoother and more reliable casting.
In light of these benefits, it is strongly advised to take into account employing the FlashGet Cast App as a dependable option for all of your screencasting demands, resolving the drawbacks often connected with All Screen Cast Apps.
FAQs