Everything about Apple Carplay screen mirroring you should know
Millions of accidents and thousands of deaths happen every year due to the use of mobiles during driving. Well, we can't really abandon the use of mobile because a lot of important calls and messages do come when we are driving. So, the best solution to the problem is to use the mobile without touching or looking at it, and Apple has done it with carplay software. And if you are wondering what Apple carplay screen is, how it works, its setup procedure, its features, and similar questions, then keep on reading because we will answer everything.
Apple Carplay Overview
"Apple Carplay is a kind of app that converts a normal car LCD screen into a controller/displayer for your iOS device."

It was first launched in March 2014. You see, a Carplay feature allows you to make calls, write or listen to messages, search music, see schedules, and do much more from your iPhone directly from the LCD screen, all with just your voice ( or touch if you like to ).
For the Apple Carplay screen to work, it has to be pre-built in a car TV, and although the feature has been around for nearly a decade (launched in 2014 ), only a few car companies agreed to pre-built it in their cars. Hence, it didn't get as much popularity as it should have. However, recently ( 2023 ), Apple has managed to install more than 800 models of cars from 71 different brands. If you are wondering whether your Car supports it or not, you can check it here on the official Apple Carplay page.
Did you know that the Ferrari FF was the first car to ever be equipped with a Carplay feature back in 2014?
What can you do with Apple Carplay?
Apple Carplay is a safe haven for users who want to use their mobile while driving because it keeps your eyes and hands away from your phone. And when it comes to its features, you can expect nothing less than exceptional from Apple, such as you can;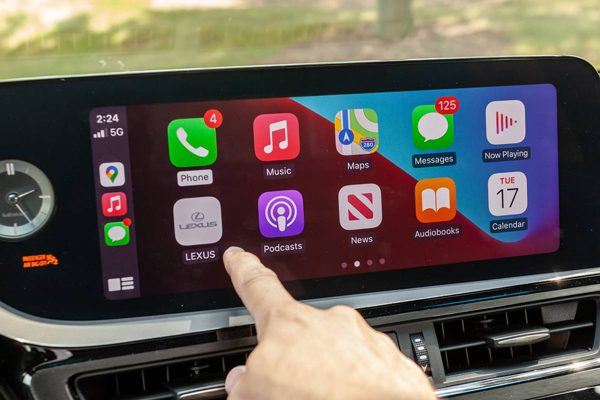 i) Search for music:
Once your mobile is connected to Carplay, you can ask Siri to search and play certain music from your phone library/Spotify/ other apps. Back in the day, you had to manually connect a USB drive or your mobile to the LCD and then search for songs with your hands, but with Carplay, you can control everything with just your voice. And in case you are wondering, if the touch function is available, then that's a yes, but you won't be needing it.
ii) Ask for directions:
As a driver myself, the biggest problem with car LCDs is that their built-in maps are only regional, outdated, and hang most of the time. However, that's not the case with Carplay because it allows you to use all the latest direction apps like Apple Maps, Google Maps, 2GIS, etc., so you get the latest road maps and real-time traffic situations. Moreover, you can search for any place while driving with just your voice. Finally, last but not least, Carplay auto-learn where you are going from your messages, emails, schedules, etc., and pre-set the destination location.
iii) Make/receive calls:
Carplay basically becomes your second phone, and when a call comes, it gets displayed automatically on the car LCD screen, which you can pick with a touch or just with a voice ( by asking Siri ). Moreover, Carplay also reads your whole phonebook list, and if you ask Siri to call a certain, it will search for it from your contact list and dial the number while you drive.
iv) Listen/write messages:
It is estimated that 1.3 million car crashes happen every year due to mobile usage during driving, and in these accidents, 3300+ people die, and more than 387,000+ get injured. And these are the major incidents. If you factor in minor incidents, then this 1.3 million number goes way up, like 10x or 100x, and as a driver, I know it's true a mobile during driving is a real curse. However, with Carplay, Siri will read your sim and WhatsApp chats, and better yet, it will even write the replies as you speak. Isn't that amazing?
v) Check calendar and schedules:
Carplay also syncs your schedules from your mobile and displays them on the car LCD, so you don't miss an important meeting, date, or commitment. You can also add new stuff to your daily schedules just by asking Siri while driving at the same time.
vi) Control your vehicle functions:
Recently, Apple has added new features in the Carplay programming, and some of these features include that you can control your vehicle functions like temperature controlling for AC or heater, tunning radio, and so on.
vii) Screen mirror: 
Apple Carplay screen for the car also offers you a Phone cast feature using which you can mirror any mobile ( Android or iPhone ) directly to the LCD. This feature allows you or your family to watch movies, play games, and rewatch memories while driving or waiting in the parking lot.
viii) Check real-time Weather updates:
If you have ever used Carplay or will use it, you have/will notice that it is basically an extension of your iPhone, and when we say extension, we mean it like mirroring your iPhone on the LCD display with almost all of your mobile apps including real-time weather. You see, viewing the latest weather updates is very important to avoid heavy rainstorms, traffic blocks, hurricanes, snowfalls, and much more. And if you do not plan ahead, you may end up wasting hours of time in traffic blocks at best and, unfortunately, may get in a severe accident.
How to use Apple Carplay to screen mirror?
Just like all other Apple apps, setting up and using Carplay is no big deal. First of all, you need to check if your car model supports Carplay or not because it comes pre-built in cars, and you can't install it yourself. So, go to this Apple Carplay official website and search for your brand and car model. And if you find your car compatible, then you must know that Carplay is compatible with iPhone 5 or later with at least iOS version 7.1. So, if you have an iPhone within or above the standard, you are good to go.
Now, get in your car and connect your iPhone to your TV by following any one of the following ways;
How to connect the iPhone to carplay via a Cable?
iPhone to Apple Carplay mirroring via a cable is very easy, and you can do it in the following steps;
Grab a cable with a USB female plug at one end ( which will go into the LCD ) and a lightning male plug at another end (which goes into the iPhone ).
Now, sit on your car seat and start at least the ignition mode so the car LCD display gets on.
Grab that cable and plug its lighting end into your mobile and the other end into the car LCD. It is important to note that some car LCD ports are just for charging, so find the data transmission port; otherwise, the LCD will not read your mobile.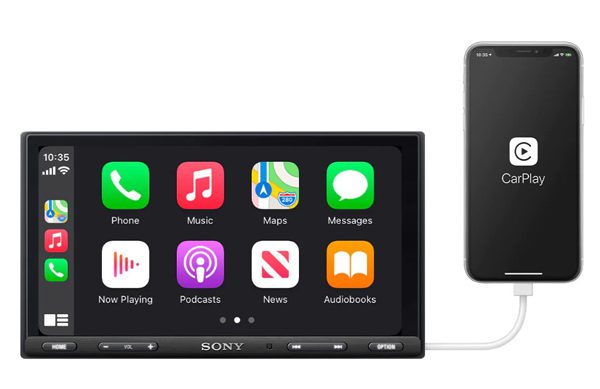 After successfully connecting, a prompt will show on your LCD TV, asking permission to connect Carplay > just allow it.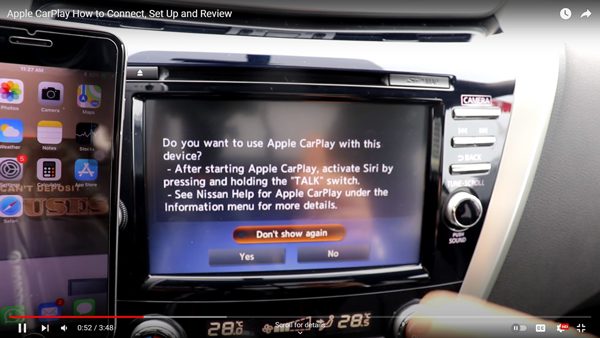 Afterwards, a prompt may show up on your iPhone > allow all the permission. That's it; the Carplay app will open automatically, and you can use it any way you like.
How to connect the iPhone to Carplay via bluetooth?
If you don't want to connect your iPhone to Carplay with a messy data cable, then Bluetooth is also an option; however, it will not charge your phone. Follow the below steps for a successful connection;
In your car, keep pressing the voice button to open up the Carplay menu on your car LCD.
Grab your iPhone and switch on the Bluetooth > connect your phone to your car TV.
Now, on your iPhone, go to Settings > open General menu > click on the Carplay option and finally choose your Car.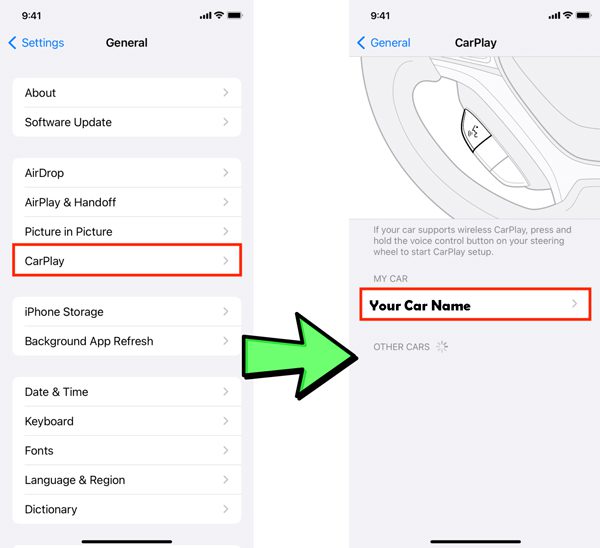 Your car LCD and your mobile will ask for some permissions > allow them all. That's it.
Once connected, you can do all sorts of stuff like make calls, listen to messages, do Apple carplay mirroring, or anything else you like to.
Can I screen mirror the iPhone to the car screen?
Apple Carplay screen mirroring feature also allows users to cast their iPhone/Android screen directly on the car LCD, which is very helpful in watching movies, playing games, and so on. You can mirror any iPhone to Carplay with the following steps;
First of all, establish a successful Carplay connection between your iPhone and Card LCD either via a cable or Bluetooth. ( See the above heading no. 3 for detailed steps).
Now, search for the Phone cast option on your car LCD and click on it.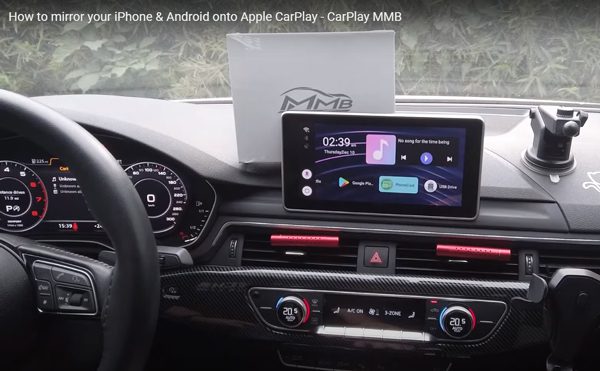 In the Phone cast menu, you will see two options, (i) Apple Cast and (ii) Android cast; as we want to mirror an Apple iPhone, choose the Apple cast option.
Grab your iPhone > and open the control center by swiping up or down.
From the control center, click on the Screen Mirroring icon > a pop-up prompt will open with device names > choose your Car TV.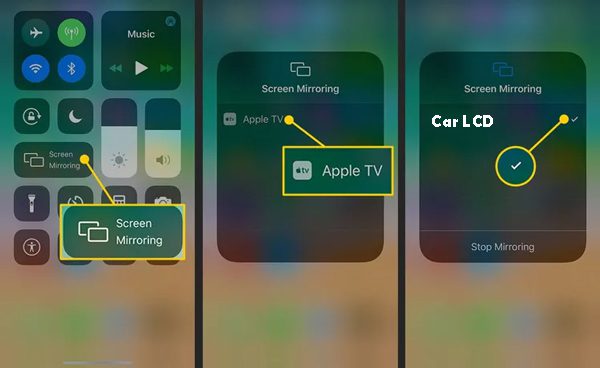 After some permissions, your iPhone screen will be mirrored on the car LCD. That's it.
Bonus: Best screen mirroring App- FlashGet Cast
Now, you do know how to mirror a mobile to a car LCD, but what about mirroring to your home/office TV, computers, etc? Well, the answer is simple: FlashGet Cast is a solution for all your problems. But you must be wondering what FlashGet Cast is, well;
"FlashGet cast is basically a third-party screen mirroring app which once you set up on your devices will allow to screen mirror between mobiles, tablets, computers, and TVs."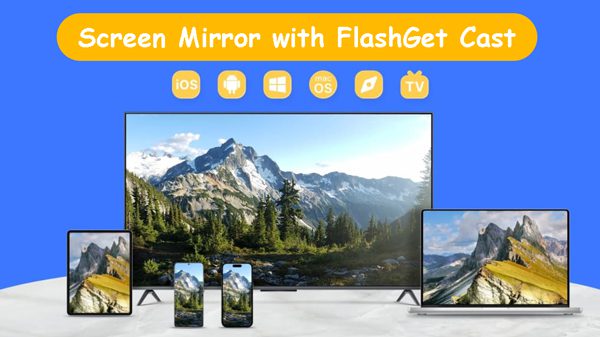 Features of FlashGet Cast
Multiple Devices Compatibility: FlashGet cast allows you to mirror a mobile to a PC and a TV. Plus, a PC to another PC and also a TV.
Diverse Operating Systems Compatibility: One of the best features of FlashGet cast is that it works with all operating systems like iOS, Windows, Android, MacOS, Linux, Chrome OS, etc.
Control with Keyboard/mouse: FlashGet cast also acts as an emulator and allows you to control your mobile directly from the PC keyboard and mouse, which is very helpful for gamers who want to enjoy games with better controls and on big LCDs.
Screen Recording/Screenshots: With this built-in feature, you don't need to install other recording apps, which will slow your device down and capture all the important moments of games, movies, lectures, or anything else directly from the app.
Multiple Connection modes: With wireless and wired connection options, you can mirror any way you want according to your needs. For example, if you just want to watch movies or scroll social media, then the medium-speed wireless connection is great. However, if you want to play games or play something heavy, then a 100% lag-free wired connection is recommended.
FlashGet Cast offers a great mirroring speed for all kinds of brand users, and with its built-in recorder and keyboard/mouse controller, you can never expect better-mirroring software. Above all, its basic features are free to use, which makes it much more attractive. So, give it a try.