Castto review 2023: the best screen sharing app?
If you have heard about the Castto screen-sharing app from somewhere and looking to find out how much speed it gives, what's the mirroring resolution, whether it is free or not, its compatibility with various operating systems, and what other features it offers, then you have come to the right spot.
What is the Castto?
Castto is a third-party screen-sharing app developed by Soom Apps. It is available to download both on Android & iOS devices. It was released back in 2018 and since then has gathered over 50+ million downloads on Android Playstore alone.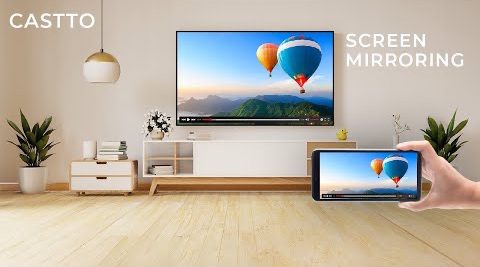 Instead of using the device's built-in screen mirroring feature, which can be very slow, Castto gives its users a way to cast to smart TV with its mirroring protocol, which is way faster. Castto does not have any advanced features like internet worldwide mirroring and so on, but it is very famous which is because of its simplicity to use.
However, Soomapps is not a reputable company; it only has 2 more apps under its name; TV remote and QR scanner.
What features does Castto offer?
Castto screen sharing app is a very simple app, and it does not offer any advanced screen mirroring feature, as you can see below in the chart;
| | Castto screen sharing app |
| --- | --- |
| Mirror via Wifi | ✅ |
| Mirror via Wire | ❌ |
| Mirror via Internet | ❌ |
| Remote Worldwide Mirroring | ❌ |
| Cast Mobile to PC | ✅ |
| Cast Mobile to TV | ✅ |
| Cast Mobile to Mobile | ❌ |
| Supports iOS | ✅ |
| Support Android | ✅ |
| Support Windows/Linux/others. | ❌ |
| Multi screens support at a time | ❌ |
| Screenshot | ❌ |
| Screen Recorder | ❌ |
| Annotation | ❌ |
Pricing plans of the Castto
Castto only offers limited screen mirroring from mobile to a PC/TV via wifi, and for that, it doesn't have any pricing plans. In short, it doesn't charge anything, which means it is free to use.
Pros & cons
With 50+ million downloads, Castto may seem like a solution to all mirroring problems, but it is no wonder that this screen-sharing app also has its cons in addition to pros, such as;
Pros
Free to Use
Good casting speed
Very simple working process
It supports both Android and iOS mobiles.
You can use it to cast to any smart TV with wifi connection.
Wireless neat & clean connection without any nasty wires around
Portable, which means you can take it on your mobile anywhere, unlike bulky cables.
Cons
Rise and fall in speed in accordance with unstable wifi connection.
Can't mirror via USB or any other wire ( in case wifi is not available. )
Doesn't have advanced features like remote controlling, online file-sharing, etc.
Don't have a built-in screenshot or screen recording feature, which gamers need.
You can only mirror a mobile/tablet to a PC/TV, and it doesn't work mobile-to-mobile or Windows-to-TV.
You can only mirror within the range of a home/office wifi and can't mirror from a different area/city/country.
You can only mirror one device to a TV. At the same time, some third-party apps offer multiple devices to mirror one big TV screen at the same time.
No annotation is available, meaning you can't draw during meetings or lectures for your colleagues/students to understand better.
People also ask
Castto screen mirroring app has over 50+ million installations on the Google Play store alone, which means it is pretty famous and trusted by many people.

However, it is developed by Some apps which only have 2 other apps under their name. Moreover, the official website is very little developed, and there is no information about their office.

Moreover, it's free, which indicates that there is a high probability that it is selling private data to big firms for money. So, it is not the safest app to use for screen mirroring.
Screen sharing from mobile/tablet to a TV using the Castto app is very easy, and you can do it by the below method;

Step no 1) Open Play Store on your Android/iOS device and download the Castto app.

Step no 2) Now, connect your mobile and TV to the same wifi network.

Step no 3) Go to your TV and make sure that its wireless screen mirroring option is on.

Step no 4) On your mobile, open the Castto app > choose the option "Select".

Step no 5) In the next window, switch on the casting option of your mobile and then choose your TV from the given list.
Final wrapup
The only positive aspect of the Castto screen mirroring app is that it's free, and other than that, its has only demerits.
There are many Castto alternative apps that give all the advanced features and are compatible actress multiple platforms, such as FlashGet Cast. For example, in the FlashGet screen mirroring app, you will get the following;
Suppose you are a gamer and are in need of recording your crucial moments; then FlashGet's built-in recorder can help you.
As a teacher you want to give a lecture to some students who are far away in the same city or another place, then FlashGet remote mirroring option is for you.
If you want to control the mobile from a PC (to play games), then FlashGet cast is made for you. And so on.